Guatemalan Trip 2022

HOLY WEEK in Guatemala – Buy now :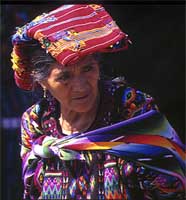 April 15 – Tues.
Arriving in Guatemala City where you will be met by your guide and transferred to the PAN AMERICAN HOTEL in Guatemala City.
April 16 – Wed.
Arrive in Panajachel and have lunch before taking a boat trip across Lake Atitlan to visit the town of Santiago Atitlan. Santiago Atitlan is the ancient capital and religious center of the Tzutuhiles. Here you will get the feel of one of the most authentic highland villages. There is also a museum there dedicated to the art of blackstrap weaving.
Overnight in RANCHO GRANDE
April 17 – Thur.
From Panajachel we will travel to Chichicastenango to see the renowned Chichicastenango Market, the largest and most famous market in Guatemala. We will spend the day shopping and taking photos at the nearby Santo-Tomas church which is over 400 years old. From there it's back to Panajachel, where we will stay the night at the HOTEL RANCHO GRANDE. After enjoying the evening in the beautiful bungalows of the HOTEL RANCHO GRANDE, breakfast will be offered the next morning, which is included with the cost of the tour.
April 18 – Fri. through April 21 – Mon.
These days will be spent in Antigua sightseeing and experiencing 'Semana Santa'.
'Semana Santa,' or Holy Week, is an annual celebration held during Easter week in Antigua, Guatemala. People from the entire city, young and old, participate in activities from Palm Sunday all week through Easter Sunday. Visitors from all over the world come to see the floats, processions, ceremonies, and other festivities, including the brilliant 'alfombas,' or carpets laid on the cobblestone streets. Residents spread sand to even out the surface and then use stencils and sprinkle dyed sawdust, flowers, seeds, vegetables, and other organic materials to create intricate designs which reflect biblical symbols, nature scenes, and Mayan traditions. These works of art are temporary because soon after they are finished the funeral marching band and parade processions pass over them. Within hours new carpets are formed in their place. This Easter celebration is like none you've seen before.
HOTEL LAS FAROLAS or other – as you want , within the same price category
April 22 – Tues.
Free day.
April 23 – Travel back to Guatemala City to fly back home!
JoAnn Paulsen
12322 North 113th Ave Suite 2107
Youngtown, AZ 85363